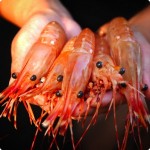 Missing the summer Spot Prawn season? Come in and pick up some delicious frozen Spot Prawn tails for your winter celebrations. Best price and quality on Vancouver island.
($15 for a half lb, $28 for a full lb)
Planning ahead to Spot Prawn season? We're spreading the Spot Prawn deliciousness around this year – no weekend festival, but we'll have live prawns available 7 days a week at our Cowichan Bay store while the season is open (starting in mid-May). Plus, check back here (or here or here) for a variety of fun-filled culinary community events celebrating Spot Prawns in Cowichan Bay throughout the 2015 season!
---
Locals Night in Victoria!
Every Thursday from 4pm.
Crab dinner with fresh-made sides for $24.95
---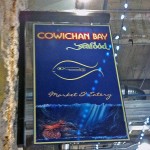 Fresh seafood in two locations! As well as our Cowichan Bay store we are now open at the Victoria Public Market in the Hudson building in downtown Victoria. All the great fresh seafood you know and love plus we are serving lunch: fish and chips, soups, sandwiches, tacos and more.
Find directions & browse our menu!
---
 What we carry

We sell fresh Dungeness crab and spot prawns from our own boats, a wide variety of fish and shellfish caught by local fishermen, and hand-made soups, bisques, and seafood pastas ready for your table. See our list of products or give us a call to check availability if you're looking for something specific or seasonal. We can help source any special request – providing they are local, Oceanwise (sustainable) choices.
From the ocean to your plate – get the whole story here!

Produced by DV Cuisine. See our Spot Prawn page for more videos!
Where we are
Now 2 locations stocked with fresh seafood! Come visit us in Victoria at the brand new Victoria Public Market, or in the village of Cowichan Bay (approximately 10 minutes from Duncan, and midway between Nanaimo and Victoria). All on beautiful Vancouver Island, British Columbia. Maps and full contact info here.
Where to find our seafood
In addition to our storefront, we distribute our seafood to a variety of specialty grocers and restaurants on southern Vancouver Island. If you are interested in sourcing premium local seafood for your business, please visit our distribution page.  Especially for seasonal fisheries like spot prawns (open in May and June each year), large quantities may require pre-order.